September that everyone will Remember!
October 2, 2021
Welcome to the second edition of DBIT Premium! Still don't know what DBIT Premium is? DBIT Premium is a fun and comprehensive monthly blog that lets you know about all the latest happenings on the campus. If you want to stay in the DBIT loop, this is definetly the portal where you can feel connected to the college. We hope you stay connected with us along this wonderful journey. We are ready, are you?
There's no doubt about it, September was quite the rollercoaster for us students. Nonetheless, this month surprisingly had a lot of ups. Engineer's day events, various webinars and technical talks were all in full swing. Not forgetting to mention, with our Second Year students finally getting the opportunity to take over the roles and responsibilities of all our clubs and chapters, they were able to get exposure to how DBIT runs internally.
Happy Engineers' Day!
DBIT's September Highlight would for sure be Engineer's Day. A day our nation celebrates on 15th September in honor of legendary Engineer, Sir Mokshagundam Visvesvaraya. As a way to acknowledge all the efforts put into improving society by engineers, DBIT celebrated Engineer's Day quite extravagantly. The day started off with an amazing talk show conducted by Idiot's Room- The Entrepreneurship Cell of DBIT, who invited a keynote speaker, Mr. Pawas Jain, Founder of Techsamvad and CEO of TBC Group. This was followed by an exceptional talk by Keerti Purswani, a senior software engineer at Intuit, who is also a content creator on YouTube. This talk was organized by our student council and hosted by our very own Second Year students Suhani Desle (SE IT) and Sasha Rebello (SE COMPS). To top this off, our Student Council also conducted 'TeChronicle' a competition where students were able to portray their eloquent and thought-provoking technical writing skills and were also awarded cash prizes. We received a good amount of participation, and the students definitely submitted amazing content. In the First place, we had Tushar Padhay (SE IT) and in the Second place, Riean Esteves (SE IT). All these events were successfully conducted and received quite the positive feedback from our students and faculty.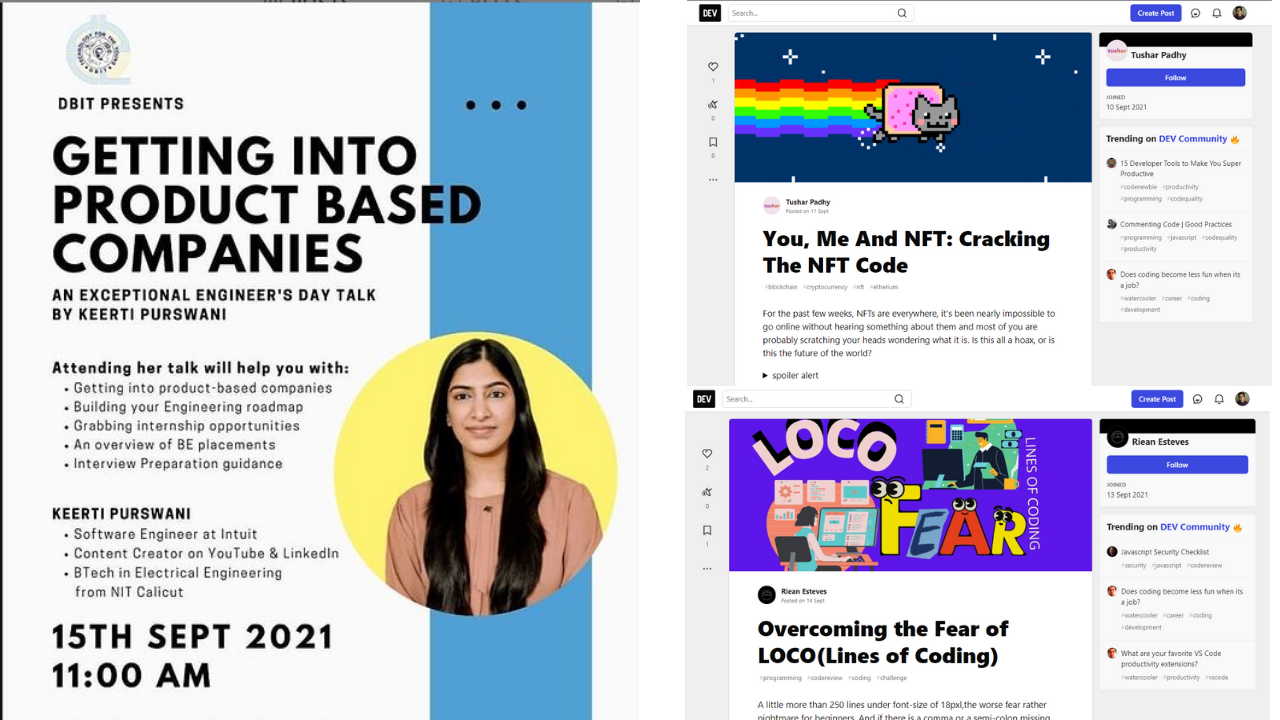 Teacher's Day Smackdown!
Last month's Independence Day Event was a tremendous hit with our teachers! So we knew we had to do it again this month for Teacher's Day. The event was hosted by our Student Council members Suhani Desle - Assistant Technical Secretary (SE IT), Muhammad Fansofkar - Assistant Alumni Coordinator (SE IT), Noel Jomichan - Assistant Sports Secretary (SE COMPS), and Nirmiti Chutke - Treasurer (BE IT). Suhani kick-started the event by speaking about the significance of teacher's day. We then had the mindblowing Ravi Panday (SE IT) perform a rap on teachers. To break the ice in the "zoom-room", we had a fun Q&A session followed by a game to test how well our professors know DBIT. After which we had two phenomenal musical performances by Rakshita Khantwal (SE EXTC) and Solomon Steven (BE EXTC). Noel Jomichan later conducted a fun game of Housie which was followed by other small games like rapid-fire, Bollywood quiz, and much more. The day ended with Muhammad's closing speech followed by a lovely poem by Riean Esteves (SE IT).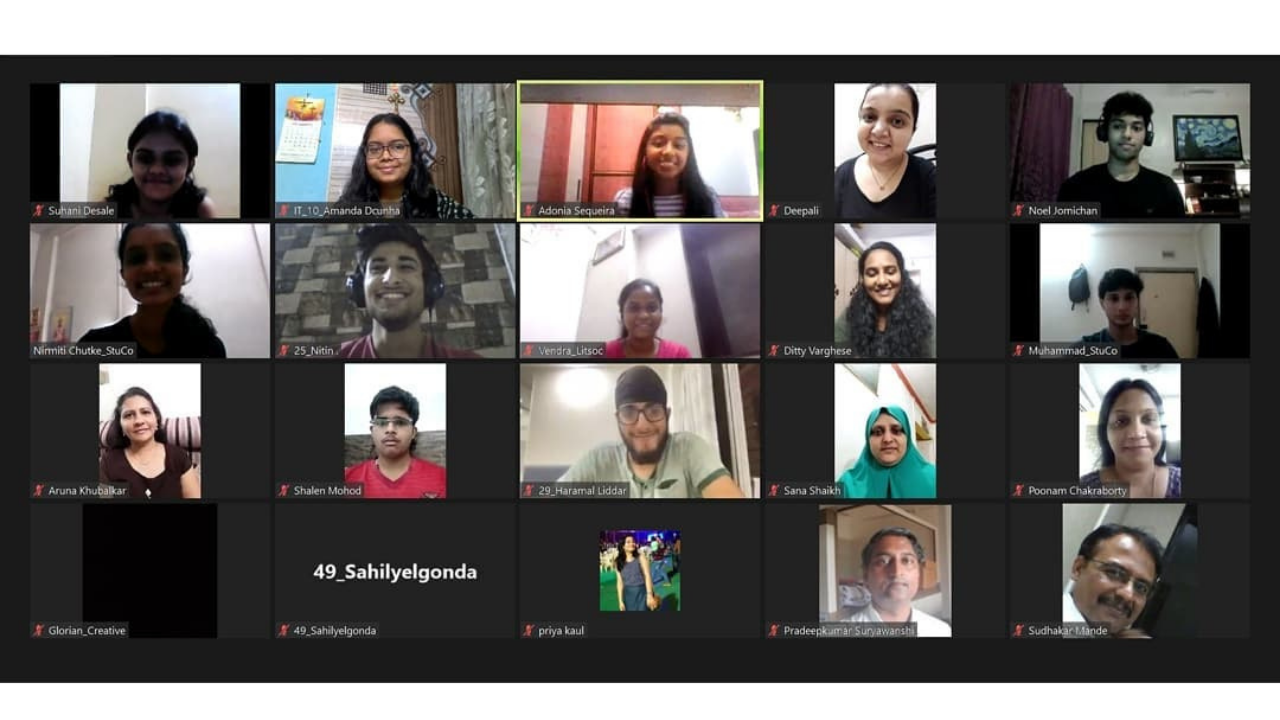 Community Learning might be exactly what you're looking for!
Community learning, ever heard of that? Well, in case you haven't let me tell you what it is. The main goal of "Community Learning" is to create skill-centric communities where students can learn, share ideas, teach and eventually grow. The students will also be able to experiment with new fields and eventually find their niche. This fresh, new initiative was started by our very own Student Council's Technical Secretary Siddhartha Sahu and the General Secretary Haramal Liddar along with other secretaries. So far we have planned on starting up with Design, Video, IoT, Coding and Business communities, and there will be more upcoming communities in the long run. This month we successfully completed our first bootcamp of the Design and Video Communities, and our IOT and Software Development communities will commence in the first week of October.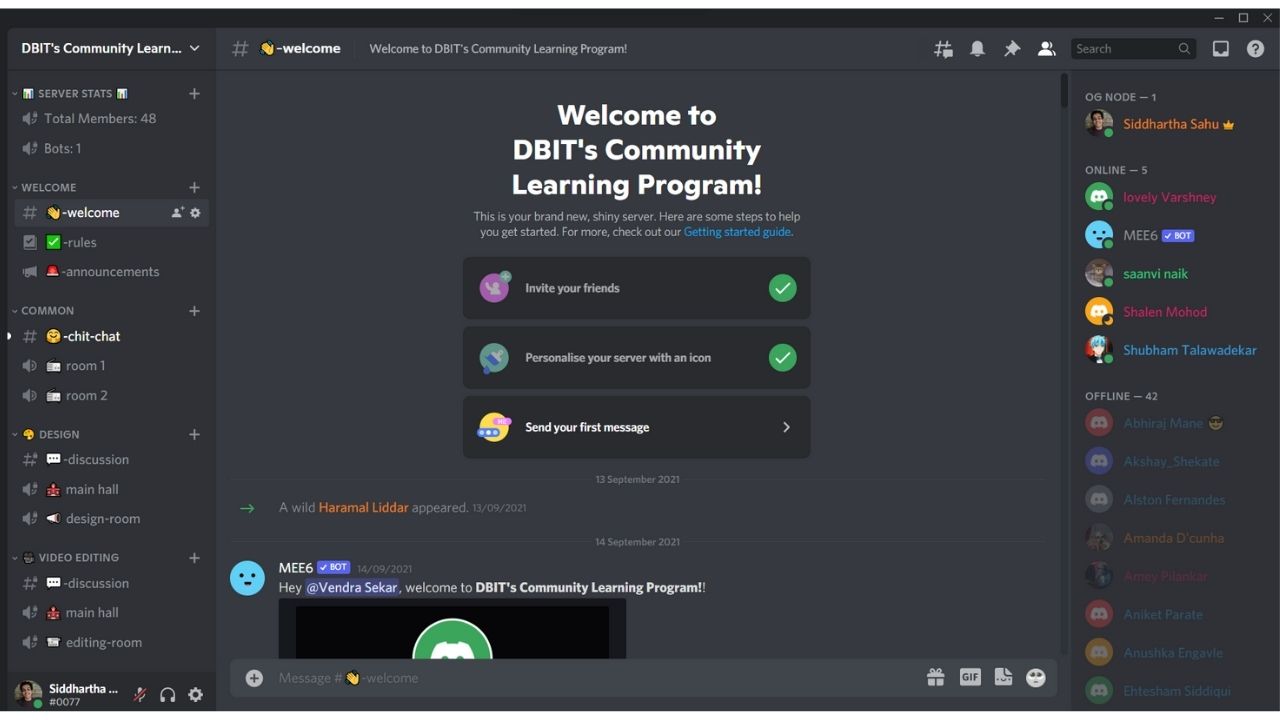 The Student Chapter Events are making us smarter each day
"Where do I even start with this? Our Student Chapters have worked so hard this month on conducting interactive sessions and events for all our students. And let me tell you, they did not disappoint. Our Association for Computing Machinery Chapter aka ACM conducted a total of five amazing events. An interactive "GitHub workshop", a fun coding competition "Battle Code", a "Photoshop Workshop", a "Technical Interview Crash Course" for our BE students, and finally an exceptional collaboration with The Institution of Electronics and Telecommunication Engineers Chapter aka IETE, the "WordPress Workshop". The Institute of Electrical and Electronics Engineers Chapter aka IEEE also organized two remarkable events, a webinar on "Product Design Cycle: Real-World Considerations" and a session on "Introduction to CNN and its Use for Image Classification" Our students loved these events and sessions that our chapters conducted and it definitely added a lot of knowledge to their treasure.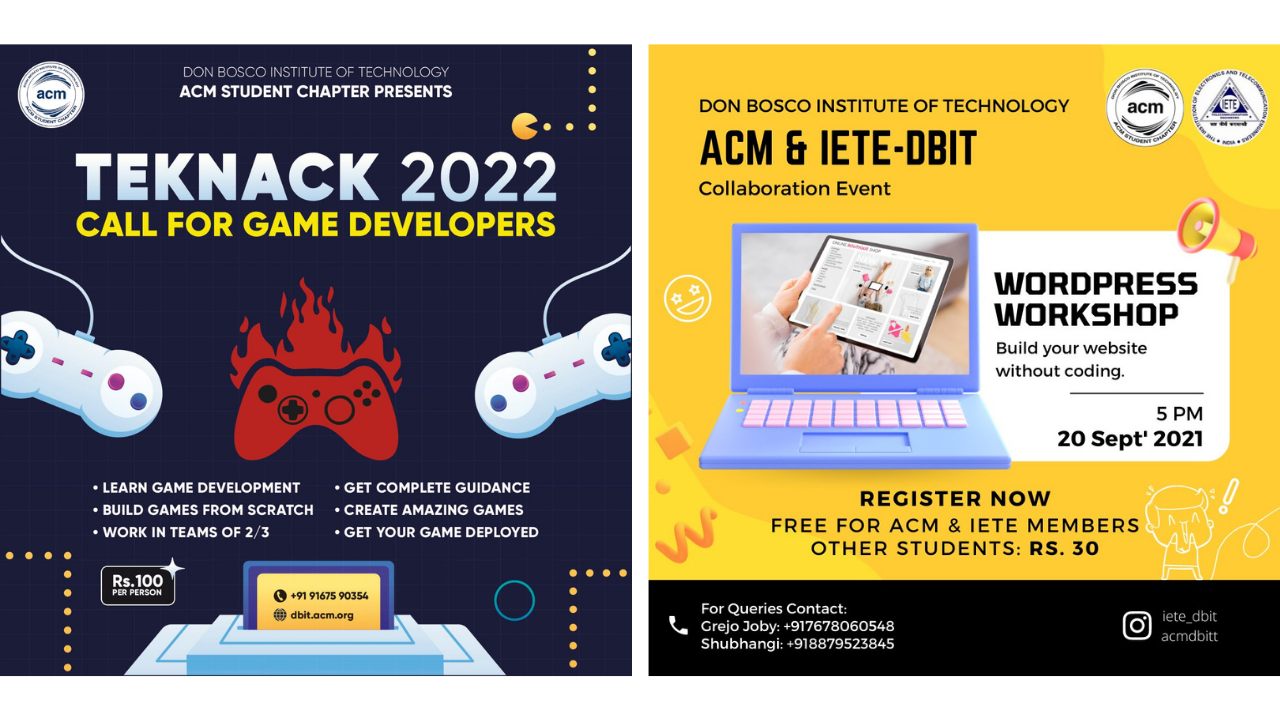 Student Club Events keep us going this semester
It might seem like our Student Chapter events were all we had going on, but nah-uh, our Student Clubs blew our minds this month. In September, we experienced five crazy amazing, excitingly entertaining, and unforgettable events. Do I need to add that we loved them? Our Literary Society (LitSoc) conducted a fun but brain-scratching virtual treasure hunt game which incorporated categories like anime, cinema, music, pop culture, politics, and a lot more to keep our students interested through the game. It was a huge success. Continuing this cultural track, our Marathi Club organized "Ganpati Bappa Morya" - A Ganesh Chaturthi special Photo/Video Contest. Go check out their Instagram page to see how that went! If you think this is all we have for cultural events, you are wrong- Okay no, just kidding. This was all we had for cultural events. But! The list of events is not over, we still have our Social Innovation for Environment Club (SIE), Entrepreneurship Cell-Idiot's Room (E-Cell), and Madgear Motorsports Club killing it with their seminars. SIE and E-Cell together organized "The S³ Challenge ''- SUSTAINABLE-SOCIAL-STARTUP- An opportunity for you to pitch your ideas for a Startup. The Outreach Committee also conducted a webinar on "KITCHEN GARDENING" which was quite the hit. And Madgear Motorsports Club conducted various seminars and mini sessions with the second-year students for E-bike. There, phew, looking back at all these events makes me want to take a minute to appreciate our Student Chapters and Clubs for all their efforts and hard work they put in this month. As well as all our students who so enthusiastically participated and made each event way more enjoyable.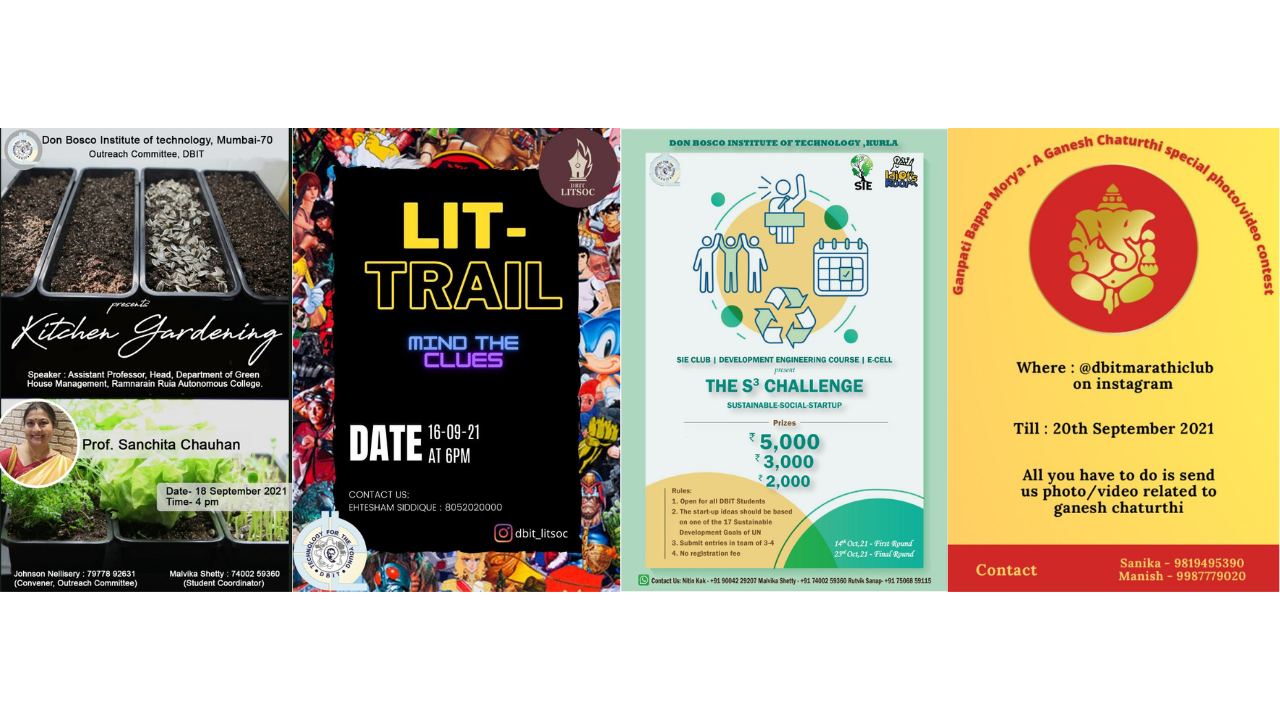 The Ultimate BGMI Tournament!
For all you gaming geeks and amateurs, our Student Council heard you this time. Battlegrounds Mobile India (BGMI), an online multiplayer battle royale game, the most awaited E-sports event of all time was conducted for our students, and let me tell you, it was an enormous success. The tournament was hosted by Sahil Yelgonda - Sports Secretary (BE EXTC) and Noel Jomichan - Assistant Sports Secretary (SE COMPS). Initially, a room was created in BGMI, and each team leader was sent the username and password of the room, which they then shared with their squad members. Everything thereafter went off smoothly. We had 18 teams in total, out of which 16 teams finished the game. It was a victory for the team 'Pirates'! We received quite a positive response from all those who participated and they mentioned they wanted more games like this to be conducted. So council, take notes ;) But honestly, since the students having fun is all we care about. We at DBIT will for sure be conducting more events like this in the future.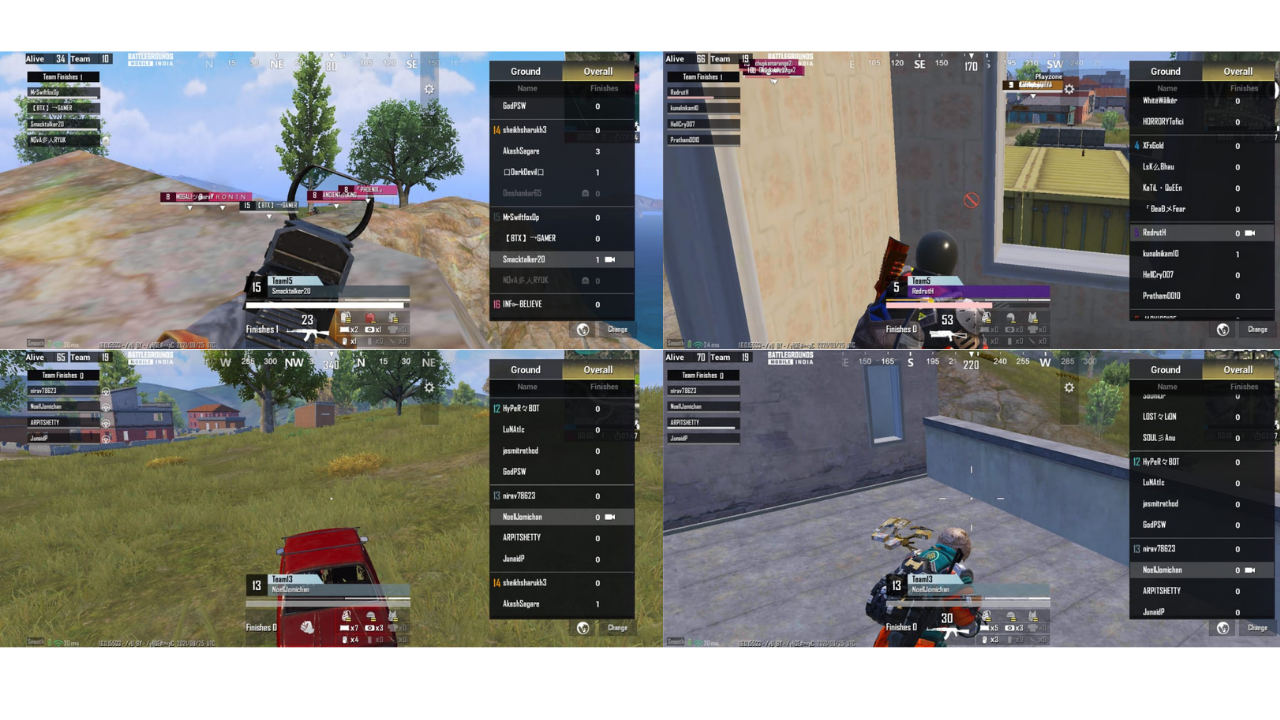 So what's next on the DBIT agenda?
Although we're all having a blast with these college events being online, and everyone is trying their best to connect with each other, college on campus would be a whole different adventure. Our second-year students haven't experienced DBIT's full potential yet and are desperately awaiting meeting everyone in person. But until then, we will keep trying to make college as interesting and fun as possible. And on that note, to give you a spoiler on what's to come next here at DBIT, we're in the works of conducting an offline football event for all our students, yep, you read that right, I said "offline". Guess you'll have to wait till next month to see how that turned out! If you enjoyed reading this issue, then subscribe to our monthly blog, receive a new edition of DBIT Premium every month and stay tuned for freshly brewed content.